Additional stylish storage solution where space is at a premium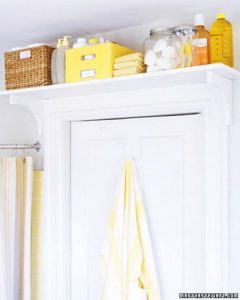 Here at Vision Interiors we love clever storage solutions.  Additional storage is something most people need. In fact clever storage solutions are an on going need as one gathers and collect stuff over a life time!
Where can I get more storage space?
This question is regularly asked by our clients. All interior spaces need storage. Additional stylish storage is needed whether a client decides to display items or conceal them.
One clever storage solution that we love here at Vision Interiors is to add an extra shelf over a door.  This stylish solutions is effective and attractive. Many, many  years ago when we were working on an interior design project in a small home we added this simple detail over a kitchen door.
This shelf was deep so that it was practical. It was painted in the same soft white as the architrave and door itself to blend in with the rest of the woodwork.
Our client stored large vases grouped together here when these vases were not in use.  Space was at a premium in this kitchen and this shelf became the red wine storage space too. Along with creating a storage solution it also became an attractive stylish solution in its own right!
Additional Clever tip
A clever tip to help this storage to look attractive is to create groups of items, keeping items of similar size together and then leaving spaces between the groups.  Add small baskets and use these to pop in non discript items! Another clever storage solution