'Greenery' – Pantone Colour of the Year 2017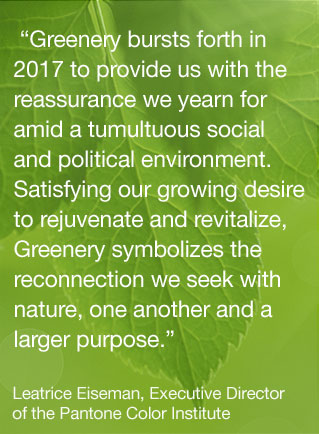 Greenery - Pantone Colour of the Year 2017
'Greenery' – Great name and great zesty yellow-green shade reminding us spring is on its way.
This is Pantones' colour of the year and as they say it is symbolic of new beginnings! Roll on spring when all the greenery in nature revives and renews itself!
There is vitality in this colour and being in the 'Green Family' it is all around us in our daily lives in the natural world, have a look around you and see it for yourself.
Why not include green tones with other great colours in your interior, whether neutral colours, deep shades, metallics or pastels, give your interior a new look and go in a new direction, a new colour, a new look for your interior space.
Suggestions on how to use 'Greenery'
In my mind I can see this colour working well with neutral greys, sepia and mussel.
A shot of this colour can give your neutral coloured sofa a new lease of life!
Colour combinations in your interior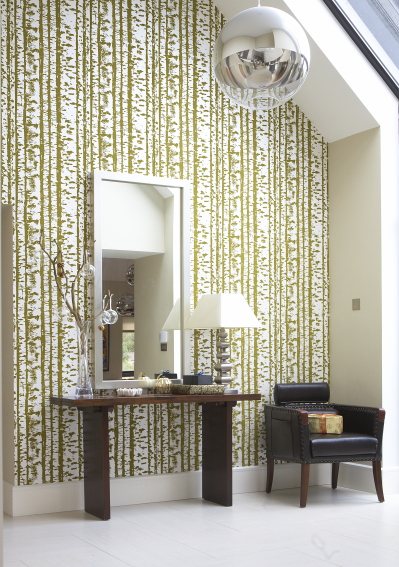 I can visualise this colour working brilliantly in a cream or white kitchen with a splash of green on a roller blind, a green glass bowl, a bunch of fresh foliage, green napkins, a painted green wall, a green painting….so many options.!
Relax in you bedroom with some artwork combining natural green tones to give an atmosphere of peace creating a restful space.
What about the office – add some live plants with large leafed foliage.
Bathrooms can benefit from leafy plants too, do not leave out the bathroom!
All round green and its combinations are worth considering in your interior, as the saying goes "there are 40 shades of green" ( or more) this gives you choices to find a green greenery that you like!
A colour consultation for your home or business is always available with Linda from Vision Interiors.
*Image from Houzz.ie
Book A Consultation