First Time Buyer? Here's Our Top Tips For Four Key Rooms In Your New Home.
Are you a first-time buyer of a new home? There's always plenty to consider when buying your first home and some of the below tips may help when planning your new rooms. 
Floors -  find a floor finish that is hardwearing, easy to care for and you love it! Remember everywhere you walk in your home…. you walk on the floor. A good floor finish is a good investment and is a permanent finish. Remember the floor takes a lot of wear so it needs to be durable for the traffic it will be subjected to from you and your family. A dark colour is not always the answer…….Trends in floors; solid wooden floors, engineered wood & laminate, tiles are great with underfloor heating… underlay with wood is important to reduce noise.
Fireplace or stove – this is usually a focal point.  When you are relaxing this is where your eye will be drawn. Size, colour and the space it takes are top priorities. It is one of the more permanent fixtures and so needs careful selection and investment. Colour is important too.  Trends in stoves include modern and contemporary free-standing stoves, insert stoves placed within the wall, or the traditional stove.
Furniture – make a wish list of furniture you would like and then number these in order of priority for you. Buy the best quality you can afford and if it is the sofa that is number one on your list make time to sit on it in the showroom and check that it is comfortable for you.!  Softwoods and hard woods generally are not recommended for use together - but you can compliment a walnut floor and an oak floor. Consider the colours of your woods, and try not to have too many variations of wood, wood can be painted too the lighten the space. As an example with a sofa; keep the sofa and chairs in block colours - this makes it easy to add pops of colour in scatter cushions or throws, and even additional accessories around the room like picture frames, vases, lamp bases or rugs.


*Furniture can be miscalculated SIZEWISE so be careful when buying large pieces. Measure twice, buy once!!
Kitchen
Plan your kitchen to suit you and your family – your kitchen needs to suit you and not only 'how it should look'.
Careful Planning; before approaching any kitchen centre or showroom, it is well worth meeting an interior designer for a consultation. This can speed the design process and turn-around time - this helps clarify what you need, and how you want it to look, before you get bowled over by what's on offer.
Floors: Look for a floor finish to take high traffic or low traffic depending on the business of family life. Tiles or wood are hardwearing, marmoleum is a natural hard wearing product in great colours and worth consideration.
Kitchen Finish: Look at various finishes for kitchen units and the quality of these units. Will you consider handles/knobs or integrated opening/closing?  What about a painted finish, solid wood doors, laminate doors?
Lighting: At an early stage consider lighting and where you will need task lighting. It is a good idea to have the light source shining in front of you rather than behind you when you are working
Texture: Traditional kitchens are primarily a solid wood like oak, maple or cherry, whilst the more modern and contemporary kitchens feature block colours in high colour, matte or gloss.
Counter: Today's counter tops are usually granite, silestone, corian or dekton -  or you could use a solid wood like oak or walnut, oiling it regularly is the key. Formica is also available in great colours and finishes.
Hallway
This is where you create a first impression on visitors to your home. Depending on your family, you may require plenty of storage. A nice table and lamp is welcoming and they could be in block colours or neutral tones, depending on your taste. If you have a small hallway, a large mirror can reflect alot of light - it's also handy to check your appearance before answering the door or heading off to work.
Floor finish: Hard wearing  - most of the traffic comes through the hallway to connect your spaces together.  Tiles or wood are hardwearing, carpet is luxurious and gives a softness not available with tiles or wood. Think of how it will be used. Carpet is easily changed in time, wood or tiles are more permanent.
Storage: for coats, hats, shoes and boots. Is this an important working feature in your hallway? Look at options of getting a storage unit made or buying an old piece of furniture and up-cycling it to accommodate all the clothing that accumulates in the hall.
Lighting: Warm, soft lighting in the hall can be very pleasing and welcoming for all who come and go from here – it is worth investing in a beautiful light fitting or lamp depending on your preference.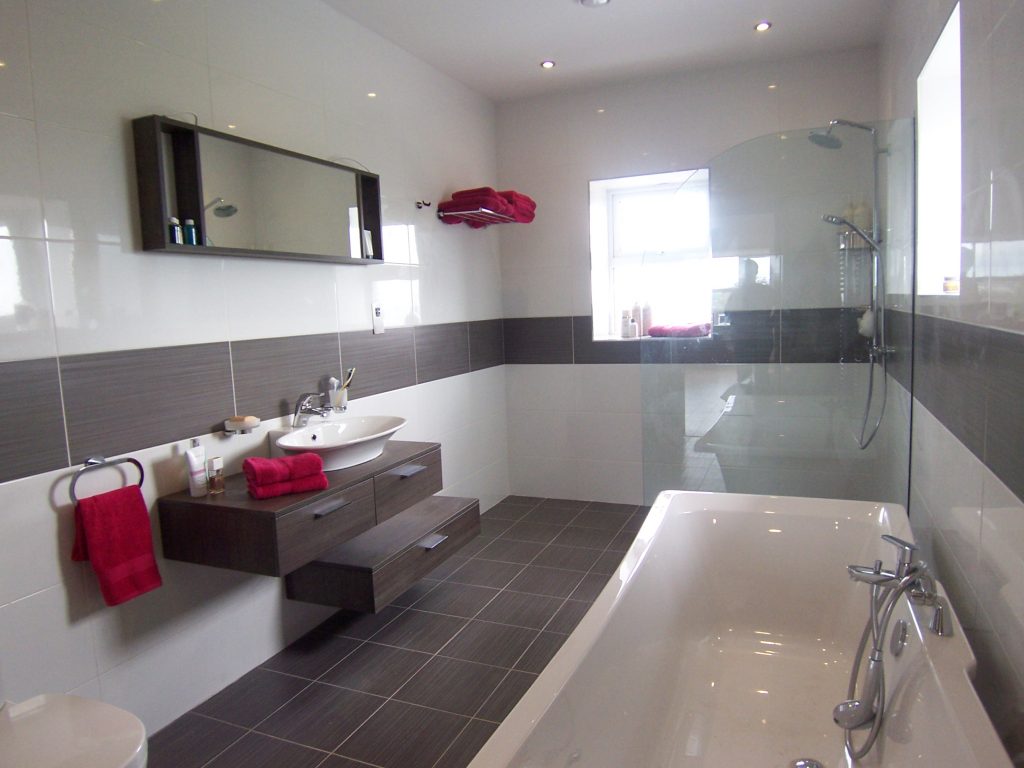 Main Bathroom
Depending on the size of your house, you may have one or many bathrooms.  If you have bathroom downstairs available for visitors, it's important that it is attractive and well considered.
Choice of Flooring: tiles are usually the first preference, followed  by marmoleum, or even cork.
Ceramics: good quality ceramics last a lifetime. This is one thing that I always say to my clients. My favourite ceramic brands include Duravit,  Villeroy and Boch. Contemporary and traditional ranges are available in most brands these days.
Colour: If you have loads of light coming in to the room, you can go for strong contrasting colours in your finishes, however if you want that look but don't have the natural light, it's important to consider strategically placing artificial light.